Drag-N-Dropper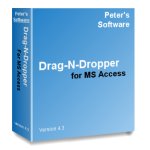 Drag-N-Dropper is a Microsoft® Access® module and form that you can add into your Access application to provide drag and drop functionality between text-based Access controls and continuous form subforms.
Now supports Access 2013!
With Drag-N-Dropper you can:
Drag text between text, combo, and list boxes, and continuous forms
Drag records between list boxes and between continuous form subforms
Drag text or records from one form to another
Re-order list box items with drag and drop
Execute an SQL statement, or a custom function on drop to handle special processing
Drag-N-Dropper consists entirely of Access objects and VBA code so it is easy to distribute with your Access application.
See a screenshot.



Download
Download dd.zip - trial version for Access 2013, 2010, 2007, 2003, 2002, and 2000 (1,366kb)
v5.11 - Access 2013 trial version included in download, Bug that caused listbox re-ordering to fail in some situations fixed.

v5.10 - Access 2010 64-bit support, and some bug fixes (see readme.txt file for details).

v5.9 - More bug fixes.

v5.8 - Reordering bug fix for forms with a header section.

v5.7 - Supports dragging on pop-up forms, bug fixes.

v5.6 - Includes support for Access 2007, Windows Vista, dragging between continuous forms, and any font/fontsize combination.
Download dd_40.zip - version 4.3 for Access 97 (738kb)



Instructions
Double-click on the downloaded zip file to open it, then double-click on the setup.exe file inside and follow the instructions on the screen to install this application on your computer.
See the included readme.txt file or help file for further instructions on application usage.



Technical Support
For Drag-N-Dropper technical support, please see the Drag-N-Dropper FAQ page, or send an e-mail message to: info@peterssoftware.com



Price
Drag-N-Dropper Pricing
Drag-N-Dropper for Access 2013, 2010, 2007, 2003, 2002, and 2000

Click to Order

In-house License
Unlimited, Royalty-Free Distribution License w/Src
Upgrade from In-house to Unlimited License

Licensing Information

Drag-N-Dropper is licensed on a company-wide basis. If you incorporate Drag-N-Dropper into an application you develop for distribution outside of your company, an unlimited license is required.

Prices are subject to change without notice.




Other Products from Peter's Software
News
10/11/13 - The trial download now includes a demo database for Access 2013 64-bit.