Navigation Pane Relief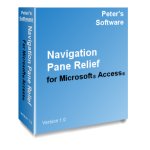 Navigation Pane Relief is a versatile, flexible, multi-function add-on form for Microsoft® Access® that can be used to access database objects, such as tables, queries, forms, reports, macros, modules and procedures. Intended as a replacement for the Access 2007 (and later) Navigation Pane, the form can also serve as a replacement for the Access 2000-2003 database window.
Supports Access 2010!
With Navigation Pane Relief you can:
Save time and money by using fewer clicks to access more organized database objects
Easily find the Access objects you need
See all object types (tables, queries, forms, etc...) in one view
Customize the view to include just the object types and/or objects you are interested in
Set a default action for double-clicking on an access object name
Double-click to access any object including VBA procedures
Quickly filter list of access objects based on search string
Sort by object name or last opened date with one click
See a screenshot.



Download
Download npr.zip - v1.2 trial version for Access 2010, 2007, 2003, 2002, and 2000 (1988 KB)


v2.0 - (Only available to registered users) Includes 'Copy & Design' action, refresh only the object name column you are working on, tile NPR window in different locations on the screen and more.

v1.2 - Bug fix: NPR no longer accidentally overwrites queries when opening them in design mode in Access 2007 and later.

v1.1 - Handles object names with single or double quotes. Objects are not loaded each time form opens - this happens once, then user must click Refresh to reload. Help file opens by pressing F1. Bug fix: NPR no longer closes open forms during refresh. Bug fix: NPR saves Navigation Pane/database window state and restores it after opening object.

v1.0 - This version is entirely new.


Instructions
Double-click on the downloaded zip file to open it, then double-click on the setup.exe file inside and follow the instructions on the screen to install this application on your computer.
Please see the included readme.txt file or help file for further instructions on application usage.



Technical Support
For Navigation Pane Relief technical support, please see the Navigation Pane Relief FAQ page, or send an e-mail message to: info@peterssoftware.com



Price
Navigation Pane Relief Pricing
Navigation Pane Relief for Access 2010, 2007, 2003, 2002, and 2000

Click to Order

1-5 Licenses
Unlimited, Royalty-Free Distribution License w/Src
Upgrade from 1-5 Licenses to Unlimited, Royalty-Free Distribution License w/Src

Licensing Information

A license covers the use of Navigation Pane Relief on one computer within your company.

With the unlimited, royalty-free distribution license, you may use Navigation Pane Relief on any number of computers within your own company and may incorporate Navigation Pane Relief into any number of applications you develop for distribution inside or outside of your company.

Prices are subject to change without notice.




News
9/27/11 - Version 2.0 released.
10/21/10 - Fix version 1.2 released.
10/18/10 - Fix version 1.1 released.
10/6/10 - Version 1.0 released.