Selector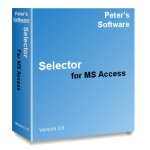 SELECTOR is a multi-purpose record / value selection form that can be used in your Microsoft® Access® application to select a record prior to opening a form, or return a value for insertion into a text or combo box.
SELECTOR is one Access form that can be configured in different ways to ease your application development process. One form does all of your selection chores!
SELECTOR features Windows Explorer-style column sorting. Just click on the column heading to instantly sort your list. Click again to sort in reverse order. Command buttons can be configured to select a record and display one of your forms (in read-only or update mode), display a new record form, delete a record, or select the bound column value for insertion into a text or combo box.
Supports the 2007 Office system.
See a screenshot.
Download
Download Sel2007.zip (604kb) - for Access 2007
Download Sel2003.zip (584kb) - for Access 2003
Download Sel2002.zip (584kb) - for Access 2002/XP
Download Sel2000.zip (616kb) - for Access 2000
Download Sel97.zip (999kb) - for Access 97


v3.10 - Includes bug fixes and changes for Access 2007 amd Windows Vista compatibility.

Instructions
Double-click on the downloaded zip file to open it, then double-click on the setup.exe file inside and follow the instructions on the screen to install this application on your computer.
See the included readme.txt file or help file for further instructions on application usage.



Technical Support
For Selector technical support, please see the Selector FAQ page, or send an e-mail message to: info@peterssoftware.com



Price
Selector Pricing
Selector for Access 97, 2000, 2002/XP, 2003 and 2007

Click to Order

1-5 Licenses
6-20 Licenses
21-100 Licenses
Unlimited, Royalty-Free Distribution License w/Src
Upgrade from 1-5 Licenses to Unlimited, Royalty-Free Distribution License w/Src

Licensing Information

Selector is licensed on a per-installation basis. Please see the license.txt file that comes with the trial and registered versions for more information.

Prices are subject to change without notice.